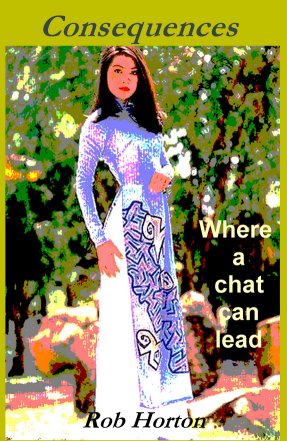 Consequences - a novel by Rob Horton
Oil - the biggest problem facing the developed world today.
Yes - you know it is, but no one implements a solution.
When a young woman in Vietnam embarks on her first tentative communication with the outside world, she sets off a chain of unanticipated events.
Neither she, or any of her new contacts, can possibly realize where their initially innocent chats can lead.
While the actions they take will change the world forever, they are exposed to mortal danger.
This novel can be obtained from:
In USA: Consequences at Lulu.com
Consequences at Amazon.com
Consequences at Borders.com
Consequences at Barnes & Noble.com
I might be available in Australia, however, the cost is prohibitive and it would be cheaper to buy it on-line from USA and get it shipped to you.
Or, Email me and I will obtain the book and send it to you.
Find Out More - Click Here to E-mail Us